Written by Travis Vickerson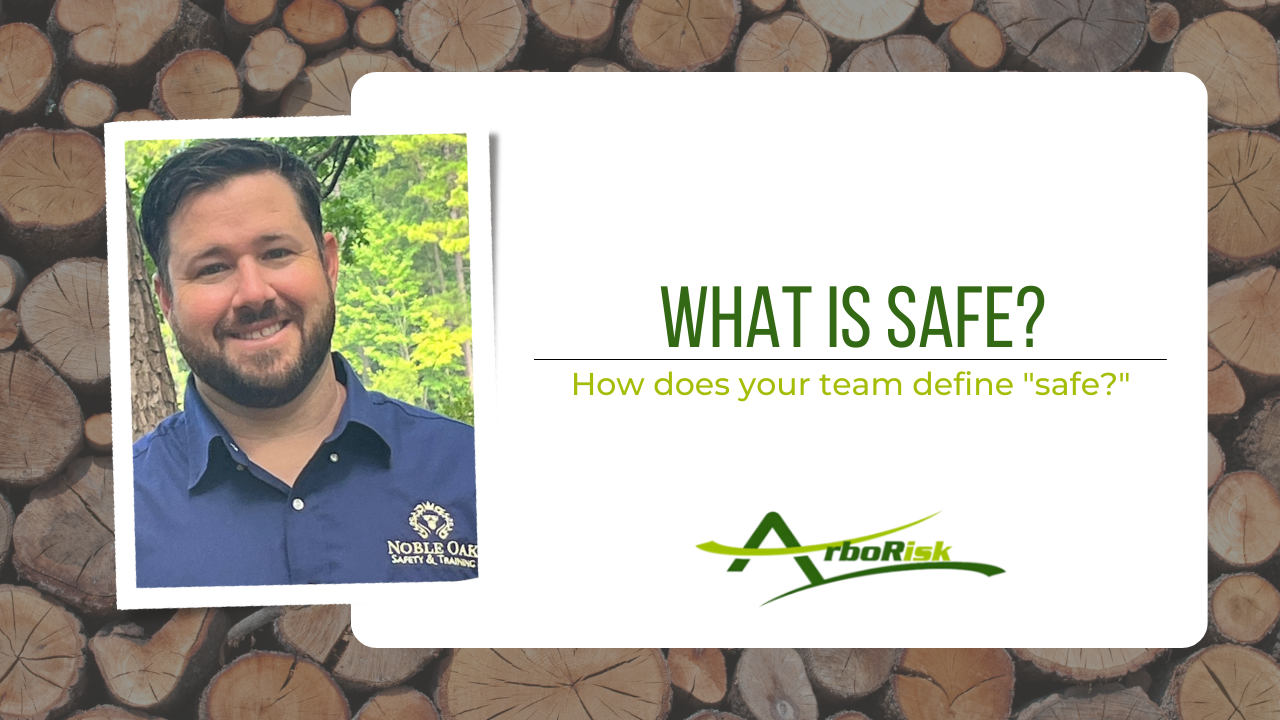 In the tree care industry, we speak a lot about safe work practices, safety first and working safely. Yet if we truly stop to think about it, what is safe?
It's a rather hard thing to define without using the word safe somehow which then brings us back to attempting to define it as well as each derivative of the word. I would like to challenge you that safe is a construct that we have placed as an overarching objective in tasks and work we do. Yet safety is ultimately the outcome from those tasks. Whether or not something was done safely can only be assessed after the event is over and no negative outcome has occurred or had the potential to occur. Just because you don't have an incident doesn't mean you worked safely; you could have just gotten fortunate to avoid a mistake that might have had potential for an incident.
What we really mean when we talk about safe work practices and safety first is that we are wanting people to perform tasks in a manner that avoids incident and potential for incident.
This means doing things in the correct sequence or within the procedure prescribed for that task. That said, the hardest thing for most employers is to know what skill level workers have in doing things in the correct sequence or as prescribed in a procedure of a task. At Noble Oak Safety and Training, we feel the best tool any employer can have is data on the abilities, proficiency and lack thereof with employees. Far too often we see incidents occurring that are not really about lack of safety, but rather about lack of ability or trying to work beyond a person's actual ability. We place workers on job sites and are given tasks that may or may not fit their abilities to perform work in the correct sequence or with the correct understanding of a procedure or just simply are outside of their skill level.
So how does one define an individual's skill level? I believe in using a scoring system derived from jobsite observation of skills. This skill evaluation of employees performing tasks allows the employer to get actual data on the individuals abilities, proficiencies and needed areas of improvement. This means the right workers can be placed in the right job sites that fit their skills and employees can be given a clear and concise pathway for improvement.
Remember, employee retention is based on employee happiness and satisfaction and often we find the most satisfied employees are ones that feel they are being invested into. Training is one of the most common ways to invest in someone. Even though it may be hard to see a return on training, having a pathway of improvement can provide tailored training options that speeds up your return rather than simply providing broad training that may or may not meet the needs of your people.
To summarize we must start treating all the work we do as steps in the process to achieve safe outcomes rather than just an objective to accomplish. Stop saying have a safe day and begin making safety an outcome of everyday by infusing proper procedures for tasks, correct sequence of actions and right skills for the right job.
ArboRisk is pleased to partner with Travis Vickerson and the team at Noble Oak Safety and Training to provide Arborist Skill Validation Assessments as well as direct team or individual skills training for our clients. If you have any safety training questions, please reach out to an ArboRisk team member directly and we can get you started on our Thrive Safety Package or connected with Travis.