How Industry Credentials Help Lower Insurance Cost
Written by Eric Petersen, CIC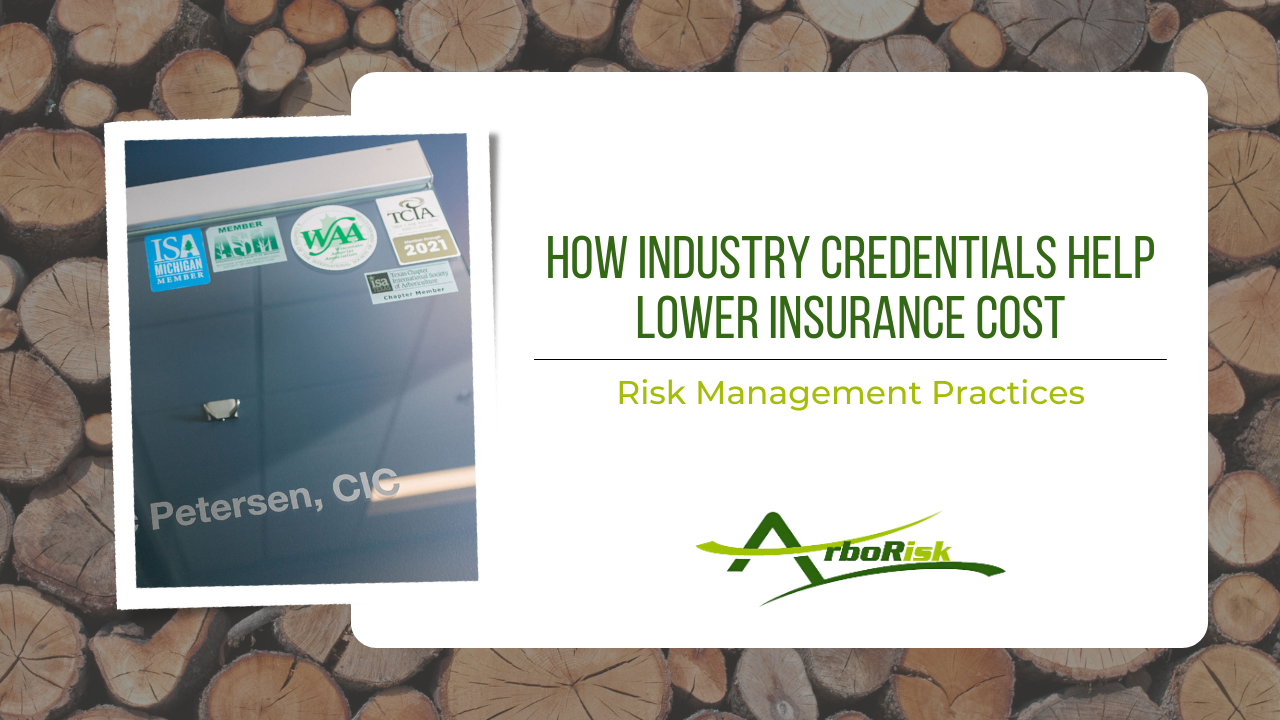 One of the most common questions that I get asked is "Eric, how do I lower my insurance cost?". While there are many factors that go into the pricing of an insurance policy, it really all boils down to one thing:profit for the insurance company. The insurance company needs to make a profit to be able to deliver on their promise; to pay for insurance claims that their policyholders experience.
To provide the lowest insurance rates possible, an insurance company must feel confident that they will make a profit on a given tree care company. It is the responsibility of the tree care company to prove why they deserve the insurance company's confidence and how they will not have claims in the future. When the insurance company understands who the tree care company is and the internal risk management practices that they are consistently performing, then they will offer the best rates possible. Unfortunately, most insurance companies and agents don't understand the tree care industry enough to ask the right questions and, without intentional communication about the credentials and the expertise of the tree care company, the insurance company just goes off of general answers to general questions.
Developing a good relationship with the insurance company and an agent is crucial in getting a good rate and coverage. Additionally, looking for insurance companies that understand the profession and specialize in it is also helpful.
Before we get into how you position yourself to the insurance company, I want to explain a bit more about the insurance company. The insurance company makes a profit either by collecting more premium from their policyholders than what they have to pay out in claims plus their operating expenses or by using the premium dollars to make investment gains before they need to pay their policyholder's claims.
Historically, insurance companies in the United States need about forty percent (40%) of your insurance premium just to cover their operating expenses, which leaves sixty percent (60%) left to pay for actual claims. Because the insurance companies cannot exactly predict the future, they use volumes of data to try and estimate the amount they will pay in future claims and price their policies accordingly. Unfortunately, data not only comes from professional tree care companies, but also illegitimate businesses and homeowner's trying to do tree work themselves. This can create an unbalanced approach to pricing the insurance policy for a professional tree care company if they don't provide specific information on their business to the insurance company.
To truly control your insurance cost, you must provide proof to the insurance company on why you are different from the masses and why you will not have as many claims as others. Help the insurance company see what risk management practices you are performing so they can offer the lowest insurance premium to you.
Whenever possible, I recommend ensuring that you discuss the following three points with your insurance agent.
1. Industry Credentials – The most important data that helps insurance companies predict future losses for tree care companies is the experience and knowledge level of the people inside the business. I have not met one arborist who does not believe that their past work experience makes them a very safe insurance risk, however, their personal belief about themselves and their company does not go far with the insurance company. This is why credentials from the International Society of Arboriculture (ISA) and other industry organizations are vital to receiving the lowest insurance pricing. Showing what ISA credentials you and your teammates have is the foundation for building trust and confidence with the insurance company. A credential from the world's largest arboricultural association shows the insurance company that you are a serious professional and company, who wants to perform tree work correctly and continue to learn by keeping the credential valid. Insurance companies want to see that you are committed to professionalism within your trade. Ensure your insurance company knows how many ISA Certified Arborists®, ISA Board Certified Master Arborists®, ISA Tree Risk Assessment Qualification holders, ISA Certified Tree Worker Climber and Aerial Lift Specialists® you have on staff and what percentage of your crew has a professional credential.
2. Internal Risk Management – In addition to industry credentials that you and your teammates possess, make sure you provide copies of the written programs and policies that you have in place that help minimize accidents and injuries. Insurance companies want to see that you have a training and development plan for each employee, written safety program, policies on driving record management and vehicle usage and jobsite assessments in place. These risk management practices enhance the insurance company's confidence in your company, bettering your chances of receiving the lowest insurance price possible.
3. Special Insurance Programs – In the United States,there are a handful of insurance companies that only work with tree care companies that have an ISA Certified Arborist on staff. It is their first qualifier for coverage as they understand what the credential means and how it relates to maintaining a profitable business. Make sure you ask your agent if there are any insurance companies that they work with that will only allow professional tree care companies into their client portfolio.
Don't let the insurance company make assumptions about your business when they are pricing your insurance coverage. Control the narrative by providing them with the data that will help them understand how you can help them make a profit by having less claims in the future.
Taking risk management seriously will help you build a stronger company that will be more resistant to negative situations that arise. If you are struggling with developing a risk management program for your company, please reach out to an ArboRisk team member or sign up for our Thrive New Heights Risk Management Package today!