Business Planning Q&A with Jim Skiera and Kevin Martlage
Written by Eric Petersen, CIC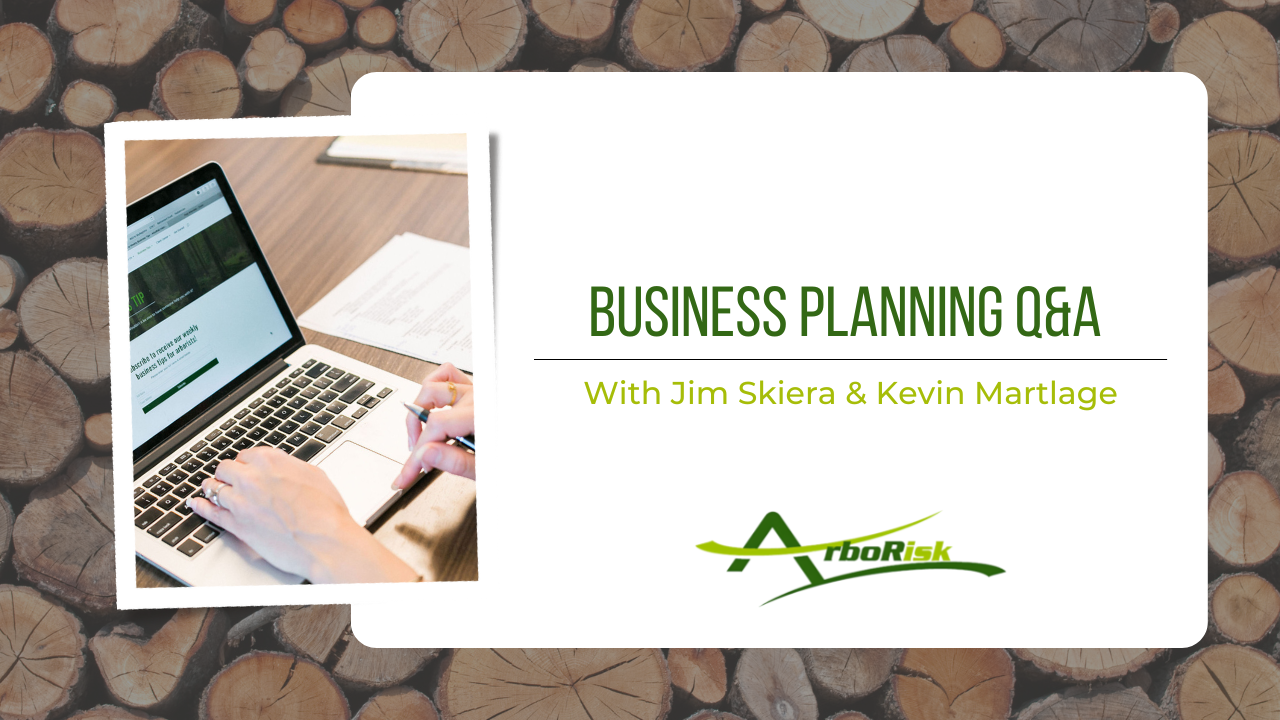 We all know how critical business planning is for your organization, yet so many business owners get frozen by the mere thought of it. To help our readers understand business planning better and how to make planning a reality for their company, I went to the business strategy planning experts from our Thrive team, Jim Skiera (JS) and Kevin Martlage (KM). 
  What is the most important aspect of Business Planning for a tree care company?
JS – Taking the time each year to do it. It's surprising how many companies don't have a business plan. Step one is realizing the value of business planning and step two is committing to doing it every year. 
KM – Great points Jim, I would also like to add that I am always surprised at how many tree care companies' plans are not strategically developed and in alignment with their company's "why" and purpose. It is extremely important to develop a business plan for your company to ensure you are pursuing the 'why' strategically and fiscally responsible. Another key area is communication. Once you have a plan, let your team know how they can impact the plan and make the plan happen on a daily, weekly, monthly, and annual basis.
  What is the hardest part about planning?
KM – Getting started on the development and then ensuring that it is properly communicated, understood, and impacted by those responsible for making it happen. There is a huge myth out there that business planning is difficult and takes some magic approach and formula to make it relevant and attainable. While there are some nuances that should be considered, the approach to developing and implementing an effective business plan starts with committing to making it happen. Intentionality and commitment to the development and need will help the team ensure that a plan is created and is ultimately relevant and sustainable by the organization. 
JS – I agree with you Kevin, for most it seems to be just getting started. Often people in the tree business do not have a business background. They know how to care for trees but often don't know how to manage and care for a business. If you are an accomplished arborist you went through a learning process to become one. You took the time to learn the standards and best practices that guide how you approach and plan how you prune or provide other care for trees. Approach business planning in the same way. When you were new to tree care you likely worked for someone or with someone that mentored you. Find a business mentor to help you get through it the first time. There are plenty of good business people out there and most enjoy helping others succeed. You can find free business plan templates online to get you started.
One of the challenges of running your own business is remaining objective with your expectations. Having a mentor who is willing to ask tough questions about your assumptions and goals will help you develop a stronger plan. It will also prepare you for your visit with your banker should you need to apply for lines of credit or loans.
  What differentiates Strategic Business Planning from Annual Business Planning?
 KM – Strategic planning typically has a longer time frame and it focuses further into the future (typically 3 to 5 years). Annual business planning is still strategic but is focused on the performance of the past year and what needs to happen in the near future (next year) to help achieve the overall longer term strategic plan. Both are equally important, with the differences falling primarily on the time frame being planned for.
JS – A strategic plan has a longer planning horizon, that sets future business expectations and establishes the strategies to be used to meet those expectations. The annual business plan is more tactical, establishing the tasks, responsibilities and resources required to achieve those long-range goals.
  What is the most common objection you hear to doing Business Planning?
JS – I don't have time to write up a business plan, I'm just too busy. 
KM – Yep, the time objection is the largest objection I hear as well. "It takes too much time and we do not have time to "worry" about trying to get something else completed". 
Additionally, for those that have a business plan, there is also an objection and issue with making sure the plan is kept alive and remains relevant to the organization. Too often, organizations develop a great plan only to get busy and focused on the day-to-day "fire drills". This always has a negative impact on the plan effectiveness and eventually leads to more lost time and course correcting that if the plan was followed and executed in the first place.
  What is the largest myth or misconception about Business Planning?
KM – "We do not need a plan; we are already extremely successful just by taking care of our customers"
"Planning it too time consuming and we do not have the time."
"I do not know where to even start even if I had time to create a plan."
"Plans are too confusing and only company leadership/owners need to have a plan. It is not relevant to me."
All comments I have heard firsthand, but are extremely detrimental to every organization in my opinion. If done correctly, business planning can take your company to the next level while making sure you remain relevant, sustainable, profitable, and a great place for your employees to continue working.
JS – The reality is every business has some form of business plan; it just may not be written down. For a small company it may be in the owner's head, and the risk with that is if something happens to that person the business fails.
  What is the easiest way to start a Business Planning session for a tree care company?
KM – Schedule 1 one-hour-long meeting with the leaders of your organization to talk about the current challenges and successes you are seeing. During that discussion identify the top 3 areas you are challenged with as an organization and the top 3 areas you feel you are succeeding in. Next identify 1 thing you will do to maintain and support the successes and 1 thing you can do to address the challenges. Commit to meeting in 30 days to see how you are doing with those items and to continue the conversation.
The point is, if you simply begin the conversation, you will quickly understand how important it is for your company to plan your next 1-5 years and you will see how engaged your team will be in having these relative conversations. Conversations about how to improve the overall effectiveness of your team and ultimately your company. Whether planning is done formally or informally, the most important first step is to begin talking about it.
Another option is to reach out to the Arborisk Thrive team and engage in the Business Planning package which will help you organization walk through the steps while you continue to focus on your business.  
 JS – If you are going through it for the first time it may be wise to hire a consultant to help you write up your first plan. The consultant has been through it many times and can help move through the process efficiently. Because they have experience, they will ask you those tough questions and help you clarify your expectations and goals. Alternatively, as previously mentioned there are many free business planning templates available online. Start by filling out one of those templates and you can go from there. If you feel you need additional help the answers will help you identify where you need more assistance. Then if you do have a mentor or consultant review the plan with them and you will be off to a good start.
Thank you Jim and Kevin for a great conversation about business planning! Your collective experience is invaluable to ArboRisk and all of our Thrive clients. We are really appreciative to have you on the team.

If you are struggling getting started on an Annual or Strategic Planning session, reach out to an ArboRisk team member directly or enroll directly into our Strategic Planning Package today!