An aerial lift device is undoubtedly one of the best friends an arborist may have.  But are you running this piece of equipment safely or just getting the job done?  
Many companies use this piece of equipment in all the right ways with all the safety devices and following the instructions, however it is very easy to get complacent when operating an aerial lift. Simple mistakes can happen at any time, but are magnified when you're just trying to get that last job completed or have been on a storm damage clean-up for a few days in a row. 
So, let us all make a concerted effort through mechanics, the safety manual, and through personal protective equipment to truly make the aerial lift our best friend and not an adversary.It is always important to read your lift's manual as a starting point, though that only goes so far.
Here are a few questions to ask your team to avoid some of the safety infractions I have seen in the field.
1. No PPE. Yes, you may be wearing all your PPE, but are you wearing your fall arrest system or are you hooked to the boom or where it is recommended to buckle in?
2. Have you dialectically tested your boom?  Do you do this test yearly – line clearance mechanics can test, but if you are a commercial arborist, you must take it to a testing facility.
3. Do you check the witness bolts?  Or are all your bolts covered with debris?  Are you greasing bolts?
4. Do you use the outriggers?  Or are you one of those arborists that only use the outriggers when you are not on even ground?  Do you use the outrigger pads?
5. Are you checking to make sure all your lights work?
6. Are you doing maintenance; or are you repairing the machine as it breaks down?
7. Do you use a spotter when backing out of a tight spot or any other time a spotter is needed?
8. Is your fire extinguisher up to date, or your first aid kit?
9. Do you handle your saw correctly in the bucket?
10. Is your bucket full of chips? Your reach, when chips are in the bucket is great, but do not allow the chips to build up so much that your hips are above the bucket's edge.
These questions are just simple reminders to remember.  Make it a policy for all aerial lift devices that all crew members using this "friend" to read the manual, be aware of the safety, and to spread the knowledge.  
It is possible to point out when others are not using the device correctly as long as you point it out nicely and make sure they are that you are fearing for their safety and not being a jerk.  It is not wrong to ask questions about the device.  It is not wrong to question someone's safety or safe use of the equipment.  We have to stop worrying about offending other crew members or other arborists when we point out safety infractions or when there is a better way to use equipment. Advise the "newbie", have discussions with the intermediate arborist, and remind the experience arborists about safety with using an aerial lift device and all other safety devices. 
This tip is about the aerial lift device, but being a safety conscious person is not a crime.  Don't be the safety police, be a safety conscious friend. Be aware of every device you use, you must use safely.  All of us arborists want you to go home at night to your families and friends.  For more safety tips, please visit our Weekly Tip blog here.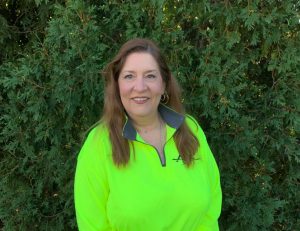 Written by: Dawn Thierbach