4 Tips to Create a Cohesive Brand
As a tree service owner, diving into the realm of branding can seem like a daunting task. For so many companies, it's overwhelming or gets filed in the "I'll do that later" folder. Your brand is your company's entire image and the story that is being conveyed to customers and prospects, so it needs your attention.
Before a customer uses your services, they have interacted with your brand in some way. Whether they drove past a truck with your logo, walked their dog past a house with your sign in the yard, or saw your latest Instagram post, all of these seemingly small interactions are the building blocks of relationships with your audience and ultimately what defines your brand.
With a few tweaks and fine tuning, you can create a cohesive brand for your tree care company that attracts new customers.
Determine your brand identity: Your brand is so much more than your logo. It is the story your customers tell. The first place to start determining your brand identity is by defining your "why". The "why" is so critical for many aspects of your business, but will essentially define your brand identity. We wrote an article recently all about this topic and can help you define your why: https://arboriskinsurance.com/2018/08/what-is-your-why/ Clearly outline your key services, the history of your company, your company's values, and where you want to go in the future. Once it is determined, your brand identity will influence everything in your marketing plan from the words on your website to your social media posts.

Utilize a consistent color palette and fonts: Your logo is your company's most identifiable aspect. Your brand colors should include those of your logo and complementing colors that align with the principles of design. From mailers to social media posts, utilize these colors in all artwork. Your fonts should remain consistent just as your colors. When choosing fonts, make sure they are easy to read and can be used for a variety of purposes. If you select a "fancy" font for headlines, make sure to pair it with another that is more ordinary. Here is a resource that helps pair complementary fonts: https://fontjoy.com

Create a professional website: Did you know it only takes 3 seconds for someone to make a decision whether to stay on your website or not? Your website is the first place prospective customers go to check out your business before they decide to use your services. With such a short time frame to make a great impression, having a professional website is a critical aspect of your business and your brand. If you are like most, website design isn't included on your resume. Invest in a web designer and a professional photographer to create a site that helps your business stand out!
Use a recognizable voice: Whether you are doing all the writing yourself, or outsourced to another company, decide on a writing style that portrays the brand identity you have created. Start by choosing 3 words to define your brand's personality and voice. From there, choose a style that appeals to your target audience and keep it consistent. Use the same tone and formality throughout your website pages, blog, direct mailers and social media posts.
With a clearly defined brand, you will attract the right kind of customers. Following the 4 tips outlined above you will begin to create a cohesive brand that will help your tree care company stand out from the crowd!
Do you need help with your company's overall branding? ArboRisk's exclusive Thrive program includes brand building initiative to help take tree services to new heights! Contact amanda@arboriskinsurance.com today to learn more!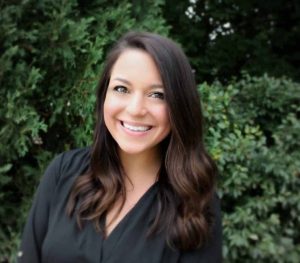 Written by: Amanda Eicher