Have you ever found yourself asking "Am I really doing a good enough job as the leader of my company?" In the spirit of Crew Leader Month as declared by the TCIA, I want to give you some insight into the five levels of leadership to help you determine where you can improve.
At the 2018 TCIExpo, Todd Kramer gave a great presentation on leadership and talked about what it takes to be an effective leader. He used John Maxwell's 5 Levels of Leadership to explain the different stages of development that leaders go through. So, where do you rank yourself as a leader?
Position – This is the lowest level of leadership and one where the leader has subordinates, not team members. The leader was given the position to lead without much qualification. They have authority to direct others based on the rules of the organization. All leaders start off in this capacity, however, to be truly effective, they must desire to grow beyond this level.
Permission – Leaders at this level have begun to understand how to use influence to have their team perform the work. The leader focuses on the relationship with the individual team members and gets them to want to do the work versus just complying with orders. The leader helps foster trust between everyone on the crew thereby truly instituting a team first attitude.

Production – Good leaders get results. This becomes the difference between Permission and Production leaders. The Production leader has a strong sense of self-discipline and work ethic to be productive, while at the same time continuing to understand how their influence on their team affects the results. Without achieving the desired goals, a leader does not reach this level.

People Development – At this level of leadership, leaders invest their time and energy into helping their team members grow and develop as individuals. Their focus is not on direct production as much as it is on developing the potential in each team member. This can be difficult for highly productive leaders, but makes a dramatic impact on the company. The more well developed all team members are, the stronger the company.

Pinnacle – The highest leadership level, unfortunately is rare in the tree care world. Here the leader has been so successful at all of the four prior levels that they have created a legacy of leadership in their organization. They have been able to develop other level 4 leaders inside their company and are viewed as mentors to those within the industry. Pinnacle leaders are ones that strive to make the entire tree care industry better.

Great leaders are not simply born great. They have developed their skills over time and worked their way up level by level. Don't forget to continually invest in your own skills as a leader of your company. Attend leadership courses and talk to others about their challenges as a leader to hone your skills.
If you are interested in growing you leadership skills by connecting with similar sized tree care companies in the Thrive Peer to Peer group contact ArboRisk today.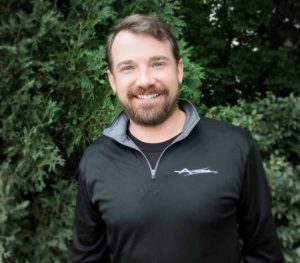 Written by: Eric Petersen